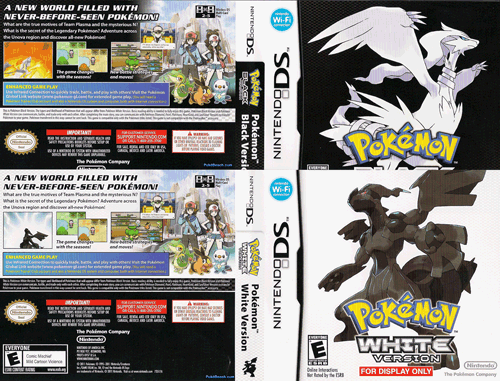 It looks just like all the others--a choice of a starter Fire, Water, or Grass-type Pokemon. A team of bad guys. Rivals. The same 8 gym structure. Similar Pokemon with different names lying in the grass.
But that little comparison does not give the game the justice it deserves. It's true Pokemon seems to have a very distinct formula that never changes in any generation, but if this fifth generation has to have one thing working in its favor, it's the plot.
Remember when we all joked about the rampant animal abuse in Pokemon?
Well, these moral issues of enslaving animals to make them fight each other have finally been addressed--by the "evil" guys of Black and White. They are Team Plasma and they're a fresh change from the evildoers like Team Rocket, Team Magma/Aqua, and Team Galactic. While Plasma does steal Pokemon, they're instead a radical group crusading for Pokemon's rights. They believe that only by releasing Pokemon and separating from their trainers, the Pokemon will be free. The leader of this organization, known only as N, blocks your path with philosophy.
He ain't too bad on the eyes, either.
You have to step back and really consider whether you're treating your Pokemon right. Do they deserve to be trapped only for us to use when we choose? Or do trainers bond with their Pokemon? Will a separation actually change anything? Every trainer has to consider why they have Pokemon and even N falters. He's a welcome addition to the Pokemon universe because he is actually interesting and has
layers
unlike most Pokemon characters.
Your rivals unfortunately are not as developed. Cheren runs after you only to fight. Winning is an evaluation of his self-worth and because you keep beating him--if you want to move on, that is--he spouts out angsty teenage crap. (And not the attractive kind that we enjoy in anime and games--just the annoying kind.) He might as well fall to his knees and curse himself for ever being born. He is
that
upset after each battle. He changes that attitude by the end, but it happens off screen. From one scene he's angsty over his loss and the next he's vowed to capture Team Plasma and help you.
Bianca has the potential to be a strong female character, but falls short. She admits that she's not very good at Pokemon battles, realizing that she can instead help Pokemon in her own way. Unfortunately, she ends up needing your help most of the time. She's essentially a dumb blonde and I only forgive Nintendo for this because they gave us such a cool-looking female main character.
She's bringing '80s hair back.
This game, while seeming quick to me after finishing it in a week, had a harder difficulty. I found myself actually stocking up on potions and needing to use strategy. Your opponents have some level of intelligence; they make informed decisions. If you send out an electric type against whatever Pokemon they have, if it knows a ground move, they will use it. And you will curse under your breath. Not every battle is difficult, but the ones that matter are.
Gracing the Pokemon stage are also new battles. Triple battles are just like double battles except the Pokemon on the far left cannot hit the one of the far right and vice versa. Unfortunately, there are few occurrences of this in the game. There are also rotation battles, which are also three-on-three. Instead, one Pokemon at a time fight and you're able to rotate one of the other two in at any time to fight. Unfortunately, these battles don't seem much different from regular battles.
If I had to take one thing out of Pokemon Black/White, I'd rip out the musicals. As a girl who loves a good song and beautiful people singing it, the idea of Pokemon on a stage dancing around and singing sounded fantastic. I wondered how Pokemon moves would be incorporated into it, just like the contests. However, the musicals are a useless gimmick. There's no competition involved, no rankings, and no singing. One of your Pokemon dances on a stage with props that you have and you're able to use those props to appeal to the audience. When the show ends, that's it. You receive a few compliments from the audience and the occasional prop to keep for future musicals.
And then you run far away and tell yourself that you'll never do that again.
The musicals had wasted potential. Had they had some form of competition like the contests from the earlier games, I'd still be running to Nimbasa city to make my Pokemon dance around in funny outfits.
Overall, Pokemon Black/White is fresh material. While some things still need to be improved, this generation brought us the first story in fifteen years that made me think. Pokemon is about engaging the audience and letting them choose how they want to play, whether it be to fight and be the best or to catch 'em all, and for the first time we had to consider ethics in a fictional world.
Maybe next time we'll see Officer Jenny arresting trainers for dog fights.